Multipurpose Professional PowerPoint Template
Easy to edit PowerPoint layouts | 195 unique PowerPoint slide designs | 5 elegant color theme variations
Blue
Red
Purple Gray
Pink
Bright Blue
Custom Theme
Video
Blue
Red
Purple Gray
Pink
Bright Blue
Custom Theme
Video
Bellezza PPT Template Overview
Fully editable professional PowerPoint template

Clean Powerpoint slide layouts for business content

195 ppt slides 
Drag and Drop image placeholders
5 different color variations including a blue theme

Complete user guide 
This professional PowerPoint template offers a wide selection of design options and is therefore ideal for modern and sophisticated business presentations including pitch decks, marketing presentations, and company profiles.  
Bellezza ppt template helps save your time when preparing high-impact presentations. It gives you the flexibility to customize layouts and colors and design your own branded presentations in minutes.
One specific feature of this business ppt template is it features a variety of presentation cover slide templates. You may select a favorite cover slide layout design to keep the presentations relevant, unique and minimal in design.
You will get instant access to download this elegant presentation template and user guide after checkout.
You get 195 beautiful PowerPoint slide layouts and five modern color themes. Please scroll down to view blue PowerPoint template slide previews.
Bellezza business PowerPoint template not only adds visual style and a modern color palette to your presentation but also helps present all your content with a matching layout, elements, composition, and structure. 
It has all the features you need to create an effective, attractive, and professional presentation.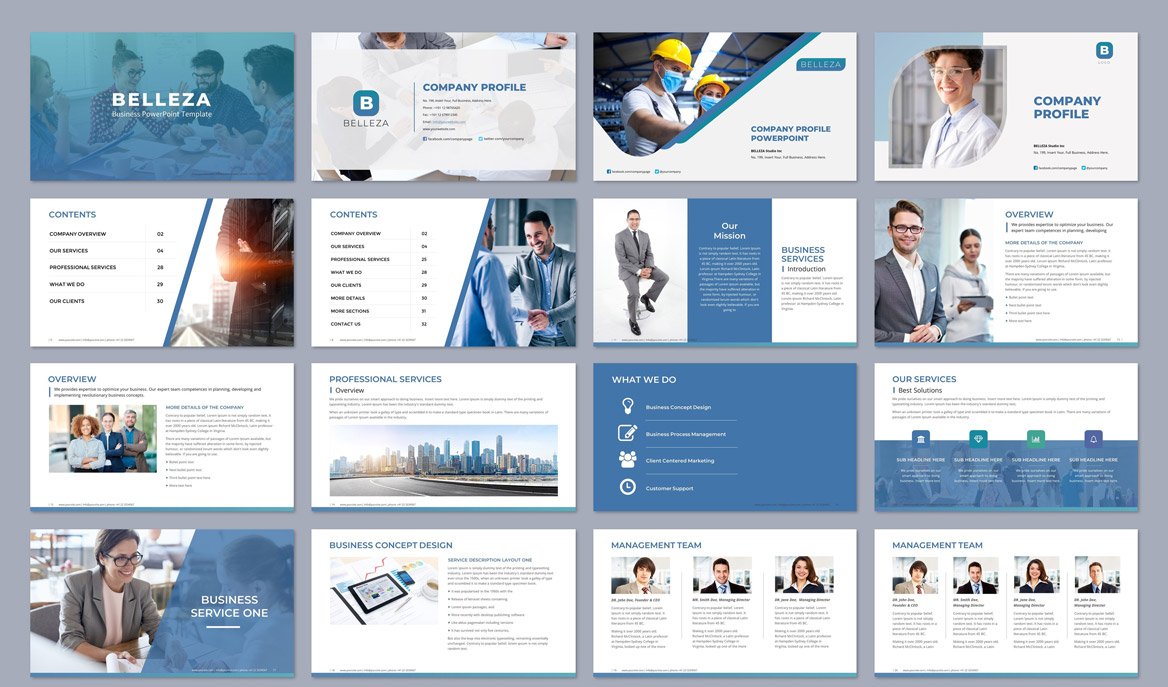 Bellezza professional business PowerPoint template contains 195 fully customizable slides and comes with images placeholders and drag-and-drop editing.
Huge collection of pixel-perfect PowerPoint slide designs that you receive with this template gives you the complete creative freedom to choose the best layout for your content.
Clean and minimal PowerPoint layout templates let you create both personal and commercial presentations, and contains dozens of custom graphics, including infographics, charts, and more. It is fully customizable and includes slide designs for all types of presentations for marketing teams, CEOs, business professionals, consultants, and managers.
Yes, you can also create an elegant and effective business plan presentation or company profile using this PowerPoint template without the support of a dedicated graphic designer.
Download Beellezza ppt template now and start designing a ultra-professional slide deck that improves your brand, emphasizes your message and deliver results.
Watch the template preview below with some random transition effects