Blue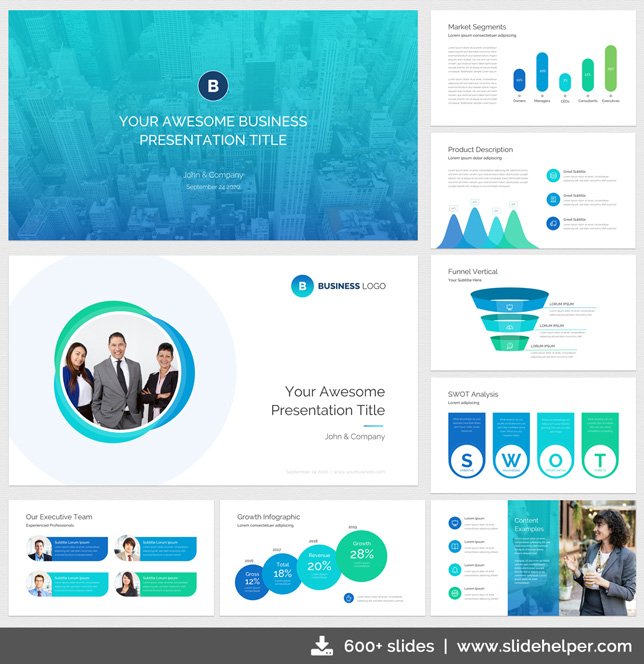 Purple
Green
Multicolor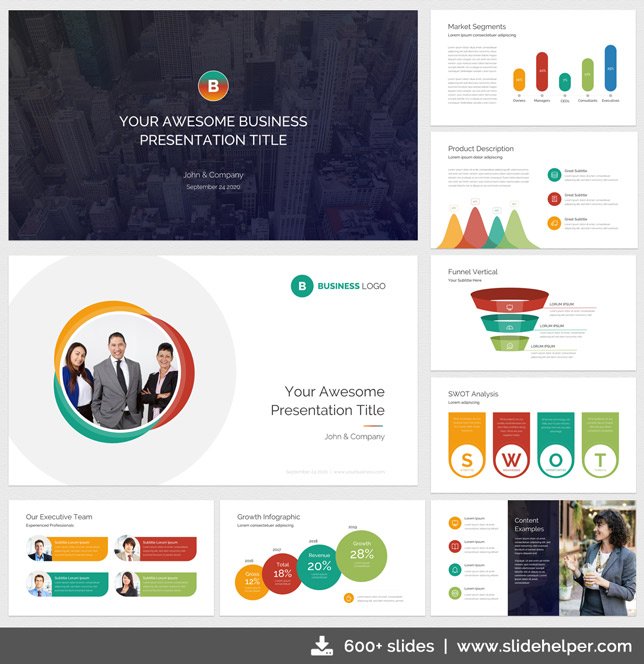 Custom
Need a custom color theme created?
'CLASSY' business presentation template is available in four different ready-to-use color variations. Also, you can easily change the colors of the template to perfectly match your brand if you have the basic knowledge of PowerPoint.
However, if you need us to create a different color variation of this template for you, we are here to help!
You may purchase the template now and send us an email at support@slidehelper.com requesting the custom color theme.
Our design team will send a custom theme tailored to match your brand colors within 12 hours. NO extra charges!
Please scroll down this page to view all template slides.
Classy Business Slides Template Overview
600+ modern creative slides in total
Four different color versions
Easy to change images – Drag and drop
One click color change
Icons pack and infographics included
100% editable using PowerPoint
Complete user guide with videos
Are you looking for a solution to create an impressive business slide deck without the assistance of a professional designer?
Don't worry, because Classy business presentation template offers astonishingly beautiful slide designs that will provide you with a one-of-a-kind deck that is sure to wow your audience and seize the deals.


---
You get tons of elegant business presentation ppt template slides to build a visually arresting marketing pitch deck, slick PowerPoints for internal communications or corporate company profile fast.
The template contains multiple variations of opening cover slides, about us, our team, our products/services, portfolio, timelines, SWOT analysis slides, infographic slides, sections dividers, editable charts, tables, and contact slides.
Each color theme of Classy business slide template is packed with more than 160 easily customizable unique slides. You can simply drag and drop your images to replace sample theme images and rebrand these beautiful, modern ppt slides.

Blue
Download Classy PowerPoint template now and easily transform your slides like a professional presentation designer
While your business presentation slides have great information in them, your slides should look super professional to get the attention and interest of your audience, or you may lose the opportunity.
However, designing an elegant marketing PowerPoint presentation on top of reviewing your content and data can be challenging, especially when you're pressed for time.
Apply Classy business presentation ppt template designs into your average slides and get an awesome looking slides set in return. With a pixel-perfect focus on the overall look, you can really impress your clients and close that deal you've been working so hard on.
Classy business presentation ppt template offers a massive collection of easy-to-use slide layouts suited for various business sectors and business cases.
Want your business presentation to truly stand out from the crowd?
Then get your paws on this powerful and professional business presentation template from Slidehelper now.