Easy-to-Use Professional PowerPoint Templates for Business Presentations and Company Profiles
Create impressive presentation slides with minimum effort & time with Slidehelper professional PowerPoint templates
Do you have an important business presentation or a client meeting coming up? Or perhaps, you're designing a company profile in PowerPoint. Whatever the case is, you need to make a great impression. Slidehelper professional PowerPoint templates can do the job for you.
Presentation templates for both newbies and pros.
Don't worry if you do not know how to do Photoshop and Graphic Design, our professional PowerPoint templates are extremely easy to use. With just a few clicks, you'll have your business presentation ready in no time. Create beautiful, modern, and effective slides for your PowerPoint presentation and get the results that you're looking for.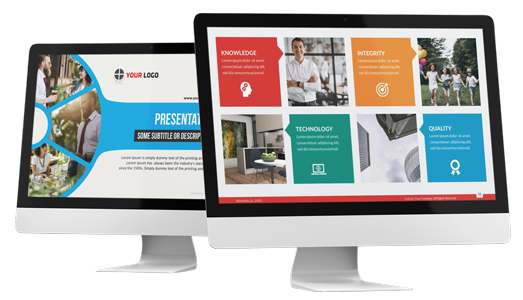 We have professional PowerPoint templates that are easy-to-use even if you don't have much experience in using PowerPoint.
You don't have to be a PowerPoint guru or a presentation design expert to make use of our professional ppt templates.
As soon as you download one of our professional PowerPoint templates, you can instantly start creating impressive slides! No need to waste time and money looking for graphic designers and Photoshop experts. You just need to have PowerPoint version 2007 or above installed and you're good to go.
Our collection of professional PowerPoint templates is continuously growing. Right now, we have a set of unique and professional templates that are ready to use for any given occasion. This will certainly grow in time as we continue to add only the best quality templates for our customers. Have we told you that all our templates have both standard and widescreen (HD) formats? Just select the best layout for your setup.
Slidehelper professional PowerPoint themes are carefully designed and professionally reviewed to suit all your business presentation needs. You can use it for marketing slideshows, client meetings, printed documents, and a lot more. The best thing about our PowerPoint templates is that you can easily customize them according to your needs. Edit our templates with ease to suit your content and message. Get your message across with our flexible, easy-to-use business PowerPoint themes with amazing visuals.
If you need additional help, don't worry. There's a complete video help guide in each template which contains easy to follow instructions. If this doesn't work, we also offer excellent support service for your queries, problems, or any kind of concerns. Just let the Slidehelper team know and we'll do our best to help you out. We are proud of our client support service for our Professional PowerPoint templates.
Why don't you try one template today? Experience the professionalism that your slides will reflect. Download the best template below and find yourself creating remarkable PowerPoint slides in just a few minutes!