Intro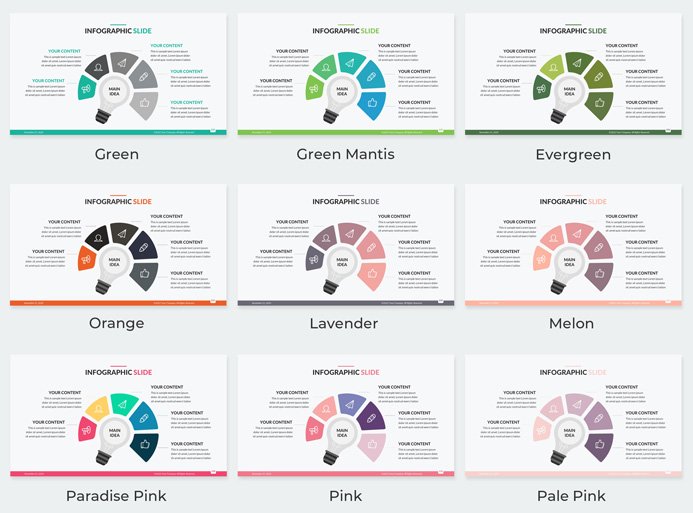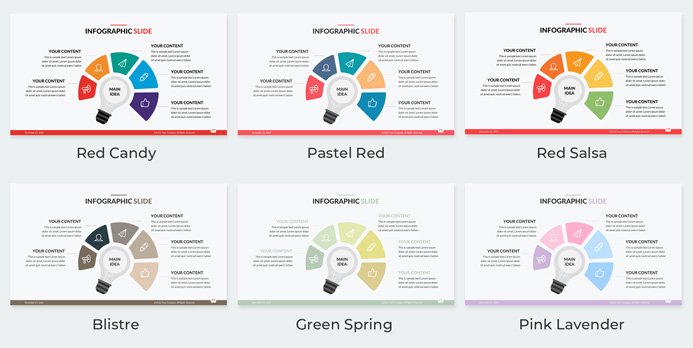 275+ unique ppt template slides and 21 different color theme variations. Please scroll down to view more sample slides.
B. Spectrum
B. Elite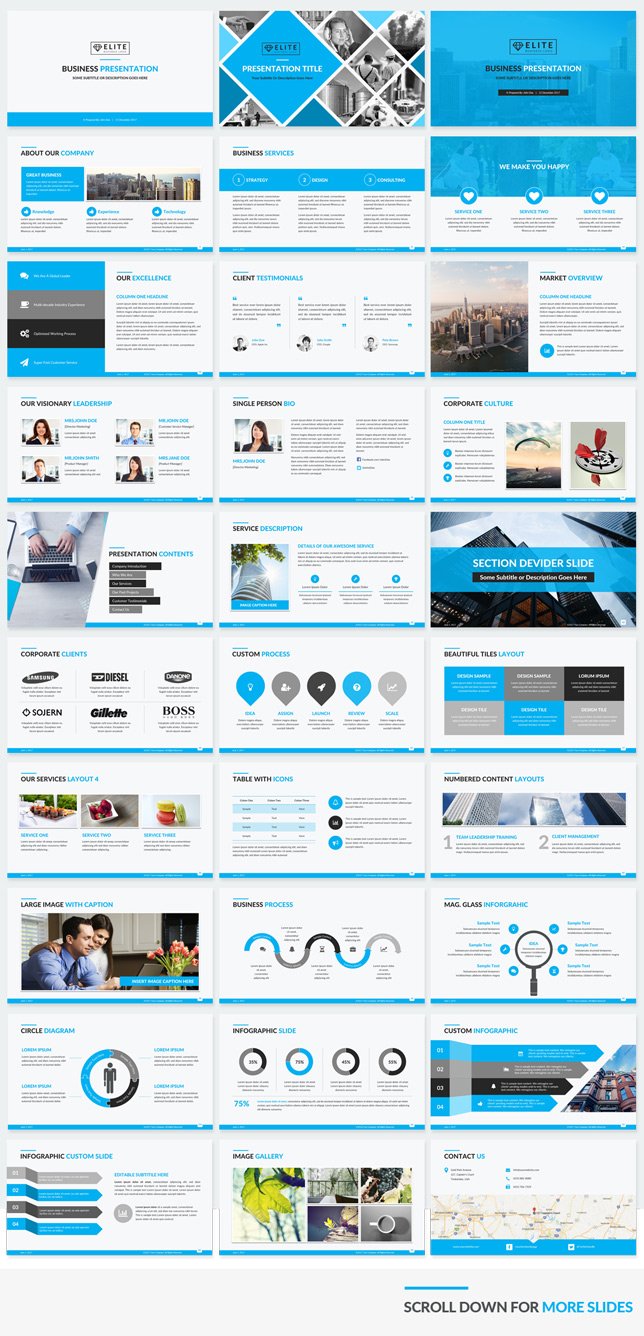 Green
Orange
Pastel Red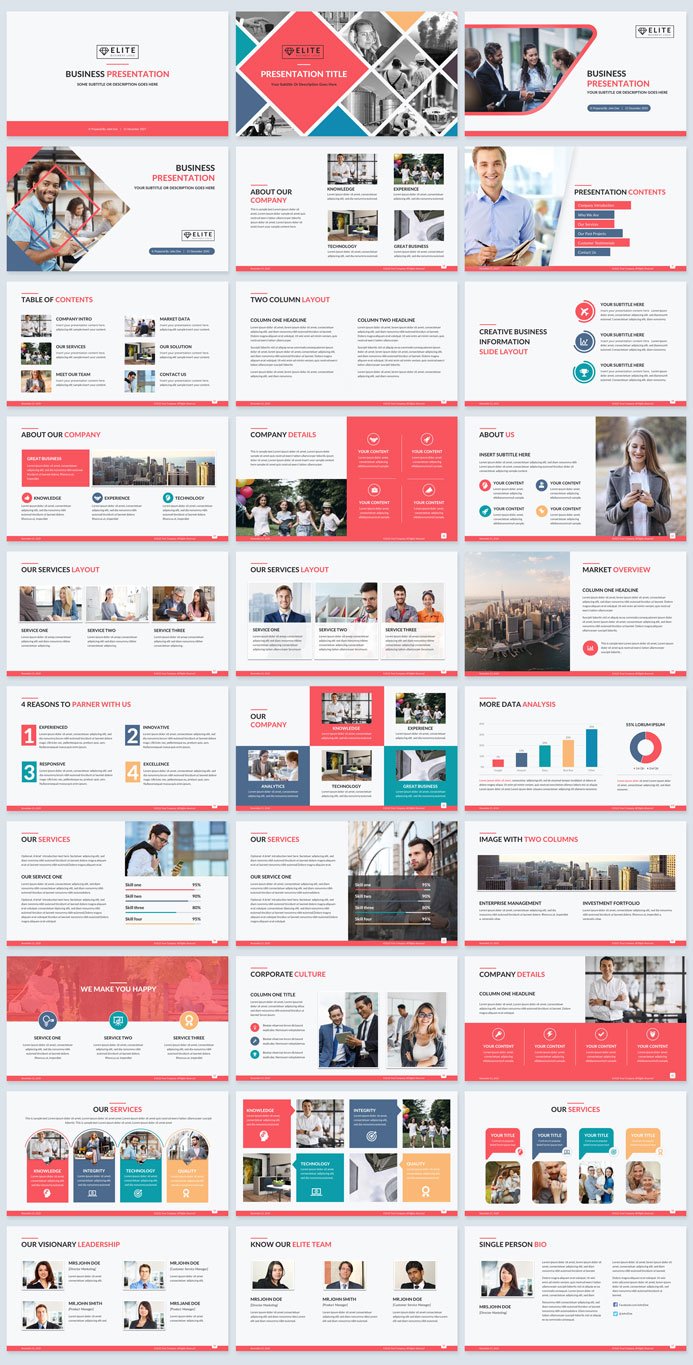 Other
You get all 21 different color variations of the Elite corporate PowerPoint template after purchase. We have included previews of just a few of the color themes on this product page to make the page easy to use for you.
Also, if you need a custom color theme unique to your brand, we are here to help you!
Need a custom color theme created?
You can easily change the colors of the template to perfectly match your brand yourself if you have the basic knowledge of PowerPoint.
However, if you need us to create a different color variation of this template for you, we are here to help!
You may purchase the template now and send us an email at support@slidehelper.com requesting the custom color theme.
Our design team will send a custom theme tailored to match your brand colors within 12 hours. NO extra charges!
Video
Elite Corporate Template Overview
21 ready-to-use predesigned color variations
275+ unique slides & 5775+ slides in total
Full HD widescreen (16:9) format slides
Modern layouts based on Master Templates
Drag and Drop image placeholders
Fully and Easily editable content
One-click color change
No Photoshop required
Complete user guide with videos
Elite Corporate PowerPoint Template is an impressive design tool for presenting your company and your work. This template enables you to create elegant slides way faster and easier than ever before.
This multipurpose corporate PowerPoint template can be used for various corporate business presentations, investor presentations, startup pitch decks, and any company report.
If you are striving to create a piece of branding material that impresses audiences like a brilliant fortune 500 company's marketing collateral, you necessarily need to download this template now!


---
---
For creating corporate presentations and reports with a modern design, this template is perfect!
You get a massive collection of easily customizable slides, Microsoft Excel compatible editable charts, graphics, free fonts, and much more.

Looking for elegant, professional looking and easy-to-use corporate PowerPoint templates?
Elite corporate Powerpoint template will help to professionally enhance your presentation slides fast. It is easy-to-use for any business executive regardless of their level of competency in PowerPoint.
In any presentation, the visual aesthetics of the slides should attract the attention of your audience without distracting them. Therefore, it is important that you download a thoughtfully designed professional business presentation template that you can update easily without losing the formatting and consistency.
When you launch PowerPoint to create your next B2B business presentation, corporate profile, or investor pitch deck, having this corporate PowerPoint template will give you an immediate boost. This template provides various ready-to-use graphs, charts, smart arts, timelines, slides with drag-n-drop image placeholders, and various text-based layout styles to show your company & service information.  The design of the Elite corporate presentation template is very modern and unique. It provides you an elegant and sensible medium to communicate your next big idea.
With this amazingly attractive template, you will be able to edit the template to suit your corporate branding just within a few clicks, copy and paste your content and the presentation will be ready.
So many business executives complain that they do not have sufficient time to create 'beautiful' presentations. So why spend all the time you have in slide designing and formatting when you can focus on the actual content of your presentation? The look and feel of this corporate presentation template will take care of capturing the attention for your amazing ideas instantly.
You may choose one of the color schemes that our professional designers have predefined, or you can easily change the template colors to match your corporate style. We have given step by step instructions for all the customization within the template user guide. If you need additional help, feel free to contact our team and we will be replying to all your enquirers super fast!
Download Elite corporate PowerPoint template now and jump-start securing your next business partnership!
Watch the animated template preview bellow
Optionally you may click here to view the template on Google Slide as static slides.