Today, we're going to discuss twenty alternatives to SlideShare that you can quickly and easily start using for sharing your presentations online.
Last updated on September 4th, 2018: I have added SlideServe in this update. This post originally contained 20 Slideshare alternatives.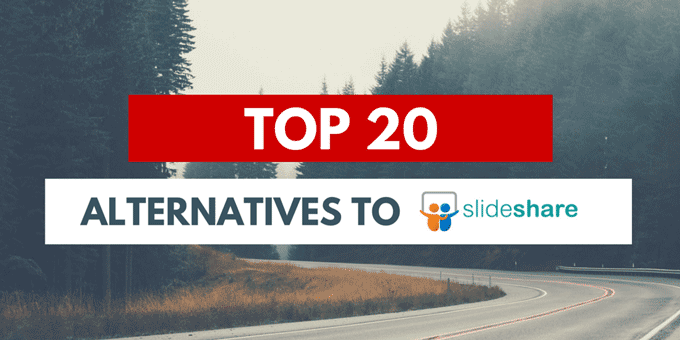 SlideShare is the Web's most popular online presentation tool for slide hosting and sharing. It is being used by millions to host their presentations and make them easy to view, share, comment and download from anywhere in the world. SlideShare once had an unquestioned stranglehold on the world of online business presentations sharing.
It's also used as a direct online slide presentation tool in any setting – just connect your computer to a projector or large TV, open your browser in full screen and you're ready to show everyone your awesome ideas & stories without any additional software.
I know creating a compelling Slideshare presentation is not easy and cheap. You spend hours refining your content and perhaps you also pay a professional designer or purchase a premium Slideshare ppt template to make it looks great. So your awesome presentation deserves to be viewed by thousands of other people outside Slideshare.
Get One Million Views On Slideshare
Download a fully editable designer made Slideshare PowerPoint template. The easiest and fastest way to create compelling Slideshare presentations.
While it's still the largest online presentations sharing service in the world, there are plenty of other online presentation services that can serve as a SlideShare alternative, many of which offer a better interface, more creative features, fewer limitations, and more.
If you believe you are locked into using SlideShare for all your presentation sharing needs, you will find the following alternatives very useful. Check them out:
SlideShare Alternatives for Online Presentation Makers
How can we not mention the granddaddy of all presentation software? PowerPoint is now online, and it's better than ever. With plenty of templates to choose from and an easy to use interface, you can create your presentations and share them online with anyone in no time. Best of all, it's free!
Another tool by Microsoft, this time it's a standalone app that lets you create modern slides (complete with your own images, video, audio, and text) and present them on a very sleek looking interface that heavily borrows from Microsoft's new Modern UI.
Google Docs has been around for a long time, and besides the great office features, it also lets you create and share presentations and media-rich slides with whoever you want, whenever you want, totally free.
AuthorSTREAM has been around for a while, and it's still going strong. It's easy to use, and it lets you upload your presentations, add video and audio narratives and share the results with your followers.
5. Speaker Deck – Ads free Slideshare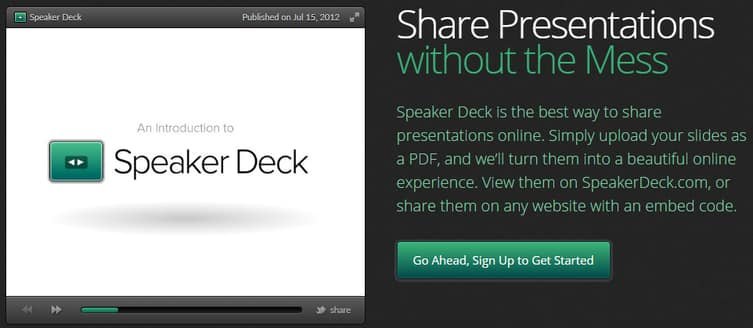 This is a completely free service that you can upload and share your presentations online. You have to upload the presentation file as a pdf and Speaker Deck splits your PDF into slides creating a beautiful slideshow.
Presentations can be embedded on your website using the provided web embed code. You can also share the link on Facebook and Twitter. Your followers can view the easy to navigate presentation on Speakerdeck.com, more like Slideshare but without ads!
Limits: PDF version of the slideshow that you upload cannot be larger than 50 Megabytes and you can upload up to 500 presentations all time.
6. SlideServe – Easily Share, Discover, View PowerPoint Presentations Online
Slideserve is another completely free service which gives you the power to upload and share Powerpoint presentations and PDF files online.
SlideServe allows people to easily upload and share presentations on SlideServe.com and across the Internet through websites, mobile devices, blogs, and email. Just like Slideshare, you can create your own SlideServe channel to brand your content. Also, you can add Youtube videos in your uploaded presentations.
7. Scribd – Upload your PPT, PDF & other documents and reach millions
With over 80million monthly active readers Scribd is the world's most popular open platform for publishing and sharing documents of all types. You can upload your academic or business presentations to Scribd for free and share with anyone. Yes, you can embed your Scribd documents on your own website too.
Due to its massive active reader base and fast indexation and higher rankings in Google and other search engines, you have the opportunity to get tons of organic traffic to your documents.
However, if you need a compensation for your document views, Scribd also has a premium feature.
The first third-party app on our list, and definitely not the last. Slides pride itself on a very user-friendly interface, which lets you create beautiful presentations using any kind of media, and share them with a single click.
The basic version is free, but if you want more, you'll need to sign up for a paid plan. If you want to quickly create modern slides that will catch people's attention, this is a great tool to start with.
Another app that aims to give you the ability to both create and share 'emazing' presentations completely in the browser – and I have to say, they definitely deliver on their promise. With visually appealing slides that can be created in minutes and a great, yet simple presentation interface, this is one service you must try.
Visme is a one-stop shop for creating beautiful presentation slides, as well as rich infographics without using any extra software, and which can be shared right away with anyone you want. It's free to start with, but you'll reach the basic quota pretty quickly.
11. Canva 
– DIY Design Tool
Canva is simple to use, yet lets you create professional-quality graphics that you can then share or present anywhere. You can select a predesigned presentation template from Canva and create your own static slideshow. However, we love Canva as a visual designer tool more than a presentation sharing platform.
However, we love Canva as a visual designer tool more than a presentation sharing platform.
The tool itself is free, but you'll have to pay for the high-quality images and other premium media that they have to offer.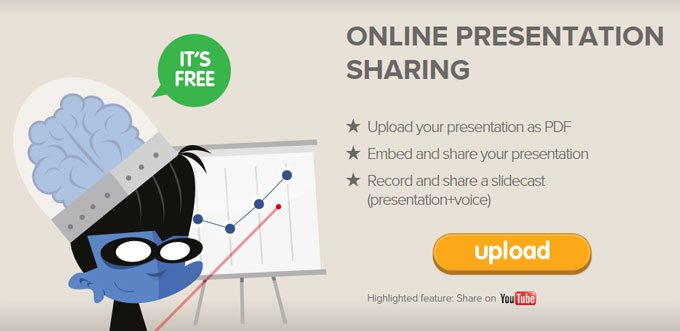 SlideSnack is a simple service that lets you upload presentations you created using PowerPoint, Keynote, Word, Google Docs or any other tool as PDF, with the ability to record an optional voiceover and share everything with the world.
SlideRocket lets you import presentations from any source (including PowerPoint, Google Docs, Keynote and more), organize and share them using a great UI, as well as keep track of the traffic to those slides and analyze it for a better view into what your clients/viewers want and what they like.
SlideDog is a Web slide sharing tool with a twist – it also comes with standalone programs that let you share your presentations offline. The apps are very nice looking and give you an easy way to organize your slides and present them in a professional and problem-free way. A good choice if you want to have the ability to share slides offline, and be able to sync them with an online library whenever you have Internet access.
A simple and unassuming tool that doesn't get in your way, instead of letting you focus on your work. You can upload ready-made PowerPoint presentations and share them on the Web or on the big screen with a few clicks. The interface will probably please corporate users, as it's right in line with other enterprise solutions, choosing proven technologies that work over snazzy new age tech that gobbles up bandwidth for pretty visual effects.
Prezi got their start by being able to create an awesome viewing experience for the people you present for back when PowerPoint did not have built-in online presentation capabilities. It is still a great choice if you want to do just that, and you get a nice interface where you can manage your slides, as well as select who you want to share them with.
Projeqt is an award-winning content creation tool that lets you make some exquisite multimedia presentations that can immediately be shared with the world. The user and sharing interfaces are both very sleek looking, and you'll easily be able to amaze anyone with the professional quality slides that you created.
You can upload your old PowerPoint presentation or pdf file and convert into a more dynamic slideshow called a 'projeqt'. Jazz up your projeqt by pulling live tweets or blog feeds, inserting an interactive map, adding audio notes or simply streaming videos that you've found on the web.
Another cool feature is you can link multiple presentations together as 'stacks'.  Using this layered presentations, like playlists, gives you the opportunity to deliver a richer and deeper insight into your story.
Projeqts can be embedded on your website or just share the link.
PowerShow is a free and simple tool that can be used to upload PowerPoint presentations from your computer and share them online or display them on a projector using their Web interface. It's been around for a while, and the UI hasn't been updated to keep up with the latest trends in Web graphics, but it works and it gets the job done. As a bonus, you can find hundreds of great PowerPoint templates on their website.
Zoho is a popular online document creation and editing suite, and of course, they offer a free tool for creating and sharing presentation slides with the world. You'll need a Zoho account, and you can create the slides using their own tools, or upload pre-made files from your computer.
Prezentit is one of the older presentation tools, but they've recently updated their software and interface, and you can use it to create and share presentations, as well as edit them in collaboration with other people in a nice, simple UI.
Knovio lets you create multimedia slides and share them with the world from the comfort of your Web browser. Their selling point is the mobile apps, which let you do everything on the go, including recording the video and presenting everything live.
With Present.me, you can upload your slides, and record a video presentation that will be integrated and synced nicely with them. It's a great tool for sharing slides, as well as creating great webinars and educational products.
The last service on this list is marketed as a Webinar software, and while it is perfect for live presentations, you can also use it to share your slides with other people behind the scenes, so to speak. You can upload PowerPoint files, as well as separate video files, with Zentation giving you a simple way to sync them both for the perfect presentation.
Docdroid let you upload your presentation in any format such as PPTX, PPT, ODP, KEY, and PDF. Then Docdroid automatically converts your files into PDFs which you can share online or embed on your own website.  Your audience can view the presentation from any device.
You can make your documents either public or private. Also, you can enable or disable downloading of your presentations.
Their free plan allows you to upload 10 documents per day and paid plans provide more advanced features such as analytics, API access, and white labeling.
Hashdoc is similar to most other document sharing Slideshare alternatives we have discussed above. However, the key difference is that you can sell your own professional presentations or other documents via Hashdoc marketplace.
You can publish and share templates, whitepapers, presentations, research reports, worksheets, checklists, forms, infographics and much more.
You can publish your presentations as free documents and build influence while earning karma points. Or you can sell premium documents directly to your audience and receive earnings via PayPal or into your bank account.
Similar to other services, Hashdoc let you embed your documents (and the store) on your own website.
The service is free to use and you only pay when you make a sale.
What is your preferred online presentation tool like SlideShare.net?
As you can see, SlideShare is certainly not the only player in the game. There's really no shortage of good presentation creation and sharing tools. No matter what your needs are, I'm sure you can find something that can suit you perfectly in the list above.
So there you have it, 24 SlideShare alternatives for online presentation making and sharing. What are your thoughts? Do you use SlideShare or any of the above alternatives regularly? What are the tools and features you like the most? What don't you like?
As ever, please let me know your thoughts in the comments below!
If you need a high-quality professional template for your next presentation, take a look at our templates gallery here.